Feb 2020
Six Ways to Maximize Manufacturing Facility Floor Space without Expansion
Is your manufacturing facility running out of floor space? Do you lack the budget to expand? Then consider the many ways you can maximize the utilization of your floor space.
First, get a handle on why you are running out of floor space. Some manufacturers face a space squeeze because of company growth. Their company grows, their inventory grows and the number of orders grows. Growth also comes through acquisitions, when manufacturers must consolidate multiple locations under one roof.
Then there's the challenge of poor space utilization. Some primary causes are building obstructions (utilities, columns, walls, ductwork, floor rails), inefficient use of traffic aisles, unused storage areas and inefficient plant layouts.
Space within manufacturing facilities costs upwards of $40 per square foot to build. Which means using your floor space to its best advantage is a top priority. Here are six proven strategies for maximizing your manufacturing facility floor space utilization without expansion.
1. Improve your plant layout using Lean Manufacturing principles
Your lack of available floor space may be the result of inefficiencies in your plant layout. Uncover these inefficiencies with audits, time studies, value stream mapping and other Lean Manufacturing techniques. By assessing how materials flow through your facility, you identify shortcomings in your plant layout. Even manufacturing plants that seem hopelessly cramped can improve logistics, flow and throughput—and maximize floor space utilization—without making any capital investments.
2. Reclaim wasted shelf and storage space
When is the last time you thought about your racking and shelves? Probably the day you had them installed. If the shape, size, weight and quantity of your inventory hasn't changed since then, no problem. But if any of these variables have changed, examine your racking, shelves and storage areas, looking for opportunities to reclaim unused space.
3. Reduce the width of your aisles
The amount of available floor space you have in your facility is dictated partly by the width of the aisles between your racking. If these aisles are wider than they need to be, they reduce the efficiency of your operation. Reducing the width of your aisles allows you to increase the number of aisles and the number of racks, or to use that space for other purposes.
4. Change your material handling system
The amount of available floor space in your manufacturing facility is also determined by the material handling system you use to move parts, machinery and other loads from one place to another within your facility. Some systems, such as overhead cranes, take up minimal floor space. But other systems, such as railcars, drag chains and conveyors, consume vast amounts of floor space that cannot be used for any other purpose. They also impede traffic and decrease productivity when installed in tight quarters.
An alternative worth considering is heavy-duty transporters and transfer carts. These industrial transporters operate on standard floors, move loads up to 100 tons, do not require complex or permanent installation, and operate at the lowest cost per pound of capacity. Transfer carts also have a tighter turning radius than even forklifts and typically rotate within their own footprint.
5. Use software
Another way to maximize the floor space in your manufacturing plans it is to use software to optimize your operation. A number of software tools let you optimize the layout of your plant floor based on material flow distances, frequency of transit and costs. Some packages help you generate operator work paths, path flow diagrams, aisle congestion diagrams and reports that help you discover the layout options that are likely to improve production efficiency.
6. Go up
One of the simplest and most cost-efficient ways to create new floor space in your plant is to build up, not out. By building a freestanding or self-supported mezzanine or work platform within your plant, you add floor space with minimal effect on existing floor space below the mezzanine. Structural mezzanines can be built over existing production assembly lines, machinery and storage areas in industrial plants, essentially doubling your available square footage.
Looking for help with selecting the right material handling solution?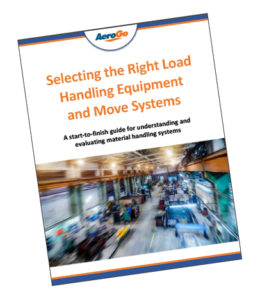 Download our recent start-to-finish guide for understanding and evaluating material handling systems.
Download the Whitepaper
About AeroGo
AeroGo, Inc. is a proven world leader in the engineering, design, manufacturing and support of material transport systems. Learn more at www.aerogo.com.