AeroGo Silverback Air Cushion Vehicles (AVs) are an ideal solution for moving heavy loads in assembly lines and components such as transformers, pressure vessels and storage casks. The Silverback series of Air Cushion Vehicles feature heavy-duty steel construction, modular componentry and a flat loading deck, ensuring your AV will withstand years of repeated production use.
FEATURES
Automatic Height Control System compensates for different load weights and center of gravity positions
Steerable Power Drives for traction and stability in all direction
Radio Remote Control for system power, emergency stop, drive speed, steering mode and direction
Support Skid allows AV to be shared with multiple loads
Electrically Controlled Hose Reel integrated to system; remote controlled
Scalable: two or more AVs can be linked together to expand total load capacity
Low profile operation eliminates dangerous overhead moves
Minimal transport height eliminates dropped load concerns
Advanced suspension drives ensure traction over variable surfaces
Special Finishes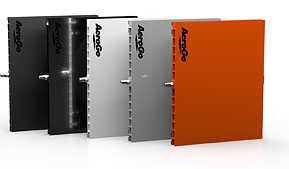 Does your application require air caster or bearing products with a specific finish? AeroGo offers anodized, powder coating, Roughcoat, Chemtreat and other special paint colors to match your production system.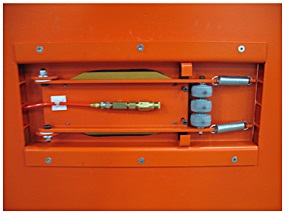 Need a bit more directional control of your air caster or air bearing products on uneven, slightly sloped surfaces or when tight positioning is crucial? AeroGo Guide Wheels provide added directional guidance for our air floats and bearings.
Note: the addition of this option will increase your load's profile height. Contact our engineers for an in-depth assessment of your load moving environment.
---
SPECIFICATIONS
Standard
| Model Number | Maximum Capacity (lbs) | Standard Width (ft) | Standard Length (ft) | Standard Height (in) |
| --- | --- | --- | --- | --- |
| AV-A20T | 44000 | 6 | 14 | 17 |
| AV-A45T | 99000 | 6 | 14 | 17 |
| AV-A100T | 220000 | 8 | 17 | 17 |
| AV-A150T | 330000 | 8 | 17 | 17 |
| AV-A200T | 440000 | 8 | 23 | 17 |
| AV-A300T | 660000 | 8 | 23 | 17 |
| AV-A350T | 770000 | 8 | 23 | 17 |
| AV-A400T | 880000 | 12 | 21 | 17 |
Working temperature 4°F to 149°F; high temp option is available
Driving Speed 0 ~ 33 feet/minute
Metric
| Model Number | Maximum Capacity (kg) | Standard Width (m) | Standard Length (m) | Standard Height (mm) |
| --- | --- | --- | --- | --- |
| AV-A20T | 20000 | 1.8 | 4.3 | 429 |
| AV-A45T | 45000 | 1.8 | 4.3 | 429 |
| AV-A100T | 100000 | 2.5 | 5.3 | 429 |
| AV-A150T | 150000 | 2.5 | 5.3 | 429 |
| AV-A200T | 200000 | 2.5 | 7 | 429 |
| AV-A300T | 300000 | 2.5 | 7 | 429 |
| AV-A350T | 350000 | 2.5 | 7 | 429 |
| AV-A400T | 400000 | 3.8 | 6.4 | 429 |
Working temperature -10°C to +65°C; high temp option is available
Driving Speed 0 ~ 10m/minute
---