The award winning AeroGo LoadRunner™ is a self-contained unit capable of lifting and transporting up to 2,500 lbs. on air bearings, without cords or hoses. The LoadRunner utilizes on-board compressed air and air casters to 'float' the load across the floor. The patent-pending LoadRunner™ optimizes manpower by making heavy load movement ergonomic and safe for one operator.
FEATURES
Completely self-contained including on-board compressed air
Low profile deck design with a 2″ insertion height
Intuitive throttle-style fingertip controls
Quiet and emission-free
Ideally suited for manufacturing, cleanrooms, assembly, testing, and applications requiring redundant and recurring load movement
Plant Engineering silver medal for superior industrial product innovation
SPECIAL FINISHES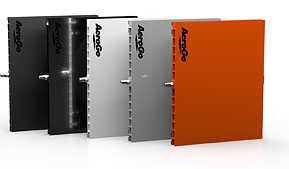 Does your application require air caster or bearing products with a specific finish? AeroGo offers anodized, powder coating, Roughcoat, Chemtreat and other special paint colors to match your production system.