Using standard shop air, AeroGo's Roll Handling solutions make it possible for a single person to easily float heavy paper rolls, metal sheet coils, cable reels and other similar loads on a thin film of compressed air. This unique Aero-Caster technology provides a reliable and easy-to-use alternative for your roll handling needs.
FEATURES
Easily and safely moves rolls, reels or coils up to 12,000 lbs./5443 kg
Accommodates a variety of roll widths and diameters
Allows precise control to position rolls within tight spaces
Low maintenance—no moving parts
Clean, quiet operation
SPECIAL FINISHES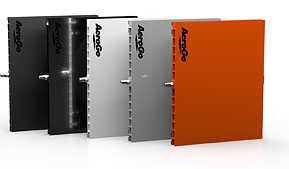 Does your application require air caster or bearing products with a specific finish? AeroGo offers anodized, powder coating, Roughcoat, Chemtreat and other special paint colors to match your production system.
SPECIFICATIONS
Standard
Rollmaster II
| Model Number | Capacity (lbs) | Fork length (in) | Approx. Wt (lbs) |
| --- | --- | --- | --- |
| RC4A-N24 | 8000 | 24 | 115 |
| RC4A-N30 | 8000 | 30 | 125 |
| RC4A-N36 | 8000 | 36 | 135 |
| RC4A-N42 | 8000 | 42 | 145 |
| RC4A-N48 | 8000 | 48 | 155 |
| RC4A-N54 | 8000 | 54 | 175 |
| RC4A-N60 | 8000 | 60 | 185 |
| RC6A-N30 | 12000 | 30 | 135 |
| RC6A-N36 | 12000 | 36 | 145 |
| RC6A-N42 | 12000 | 42 | 155 |
| RC6A-N48 | 12000 | 48 | 165 |
The Rollmaster II includes:
Two front fixed no-load wheels
One rear swivel wheel
One inverted U-type handle (shipped unattached)
Four or six Aero-Casters
Can be configured with neoprene or urethane Aero-Casters
Rollmover*
| | Capacity | Roll Diameter Range for < 2-in Crush | | Net Wt. |
| --- | --- | --- | --- | --- |
| Model Number | (lbs) | Min | Max | (lbs) |
| RM4T-36NRM | 8000 | 24 | 36 | 54 |
| RM4T-54NRM | 8000 | 36 | 54 | 56 |
| RM4T-60NRM | 8000 | 40 | 60 | 58 |
| RM4T-72NRM | 8000 | 54 | 72 | 58 |
| RM4T-84NRM | 8000 | 56 | 84 | 58 |
| RM4T-ANRM | 8000 | 24 | 72 | 64 |
The Rollmover includes:
Two lift units
One coiled interconnecting hose
One regulator
* Rollmover with neoprene Aero-Casters. Can be configured with neoprene or urethane Aero-Casters
Metric
Rollmaster II
| Model Number | Capacity (kg) | Fork length (mm) | Approx. Wt (kg) |
| --- | --- | --- | --- |
| RC4A-N24 | 3629 | 610 | 52 |
| RC4A-N30 | 3629 | 762 | 57 |
| RC4A-N36 | 3629 | 914 | 61 |
| RC4A-N42 | 3629 | 1067 | 66 |
| RC4A-N48 | 3629 | 1219 | 70 |
| RC4A-N54 | 3629 | 1372 | 79 |
| RC4A-N60 | 3629 | 1524 | 84 |
| RC6A-N30 | 5443 | 762 | 61 |
| RC6A-N36 | 5443 | 914 | 66 |
| RC6A-N42 | 5443 | 1067 | 70 |
| RC6A-N48 | 5443 | 1219 | 75 |
The Rollmaster II includes:
Two front fixed no-load wheels
One rear swivel wheel
One inverted U-type handle (shipped unattached)
Four or six Aero-Casters

Can be configured with neoprene or urethane Aero-Casters

Rollmover*

| | | Roll Diameter Range for < 50mm Crush | | |
| --- | --- | --- | --- | --- |
| | Capacity | | | Net Wt. |
| Model Number | (kg) | Min | Max | (kg |
| RM4T-36NRM | 3629 | 610 | 915 | 24 |
| RM4T-54NRM | 3629 | 914 | 1370 | 25 |
| RM4T-60NRM | 3629 | 1016 | 1524 | 26 |
| RM4T-72NRM | 3629 | 1372 | 1830 | 26 |
| RM4T-84NRM | 3629 | 1422 | 2134 | 26 |
| RM4T-ANRM | 3629 | 610 | 1830 | 29 |

The Rollmover includes:

Two lift units
One coiled interconnecting hose
One regulator

* Rollmover with neoprene Aero-Casters. Can be configured with neoprene or urethane Aero-Casters
---