Aero-Casters go by many names including air casters, air pads, air skates, air skids, & air bearings. No matter which terms is used, they all share the common premise of floating heavy loads on a film of air.
WHY WOULD YOU USE AIR TO MOVE HEAVY LOADS?
It turns out that air mitigates the forces of weight and friction. Air casters take advantage of this scientific fact to offer significant advantages when moving heavy loads:
Low profile
Low friction
Economical and reliable
Omnidirectional multi-positioning
Flexible for variety of applications
Ergonomic – reduces lift hazards
Precise positioning without floor damage compared to traditional material handling equipment methods
Utilize existing shop air
Aero-Casters meet American Society of Mechancial Engineers (ASME) specifications
AIR CASTER 101
AeroGo air caster equipment uses a variety of Aero-Casters to literally float heavy loads on a virtually frictionless film of air which provides a clean, quiet and safe alternative for heavy load handling systems. Moving heavy loads with air is an ergonomic and green endeavor that can replace or enhance traditional material handling equipment such as cranes, rails, conveyors, forklifts or pallet jacks.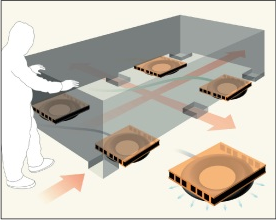 Reduced friction and omnidirectional transfer allow precise handling of any load, giving the operator a better ability to maneuver and align the load within a limited work space.
Air caster equipment can be very low profile. For example, the low profile of the Aero-Caster Load Module requires less than 3″ (76mm) clearance. An air caster will not damage floors and expensive reinforcement is usually not necessary.
Because we use only basic pneumatic components such as air regulators and hoses, our load modules and air bearing systems are not only reliable, but will operate in most environments unlike some other types of heavy load handling systems.
HOW AEROGO AIR CASTERS WORK
STEP 1



Prior to inflation, the load is solidly supported on landing air pads. These air pads protect the air caster torus bag from being crushed when the load is at rest.
STEP 2



When standard shop air is applied to the air caster, the torus bag inflates, creating a seal against the floor surface and the air bearing, raising the load.
STEP 3



When the pressure within the air caster unit is sufficient to offset the load's weight, air slowly and evenly escapes between the flexible torus bag and the floor. The load is literally floated on a thin, nearly frictionless cushion of air, .003 to .005 inches (.08 to .13mm) thick.
---
WATCH THE VIDEO
See for yourself how Aero-Casters work
---

GET MORE INFORMATION