Take advantage of AeroGo's engineering expertise to design a custom solution that's right for you. Since 1967 we have been helping customers around the world in every industry to move loads of all shapes and sizes. AeroGo provides a full range of engineered load handling solution from specialized components for integration into a larger project to full turn-key solutions.
AeroGo's engineering expertise provides you with the most effective heavy load handling systems available. Contact our engineers today to review your application needs and identify the right product that will get the job done. Even if your moving task seems nearly impossible, AeroGo's experienced engineers provide innovative, practical and effective heavy load handling systems, utilizing air casters or conventional components, to meet your precise application requirements.
The AeroGo Engineering Project Team is responsible for all engineering, design, technical documentation and project management functions. The Team carefully evaluates project requirements and considers all options and concerns. User interfaces, safety, maintenance access, the use of dependable components and inspection requirements are considered to ensure all end users and maintenance personnel are completely satisfied.
FEATURES
Engineering of site-specific heavy load handling systems using proven, and cutting-edge technology
Engineered designs range from simple, manual handling systems, to complex guided vehicles, and from basic components to full system integration
AeroGo engineers are fully qualified and staffed to handle all phases of the design process
Our engineering philosophy is guided by four principles: Safety, Quality, Reliability & Cost-Effectiveness
SPECIAL FINISHES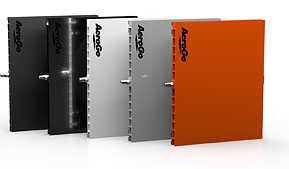 Does your application require air caster or bearing products with a specific finish? AeroGo offers anodized, powder coating, Roughcoat, Chemtreat and other special paint colors to match your production system.