Mount air casters underneath existing tooling or scaffolding for safe and easy mobility to any piece of equipment on your factory floor. Simply bolt the tooling footer to the top of the Embedded Air Caster to lift and position tooling for manufacturing, using your existing compressed air supply.
FEATURES
Embedded Air Casters are sized to fit any application
Ideal for applications requiring frequent relocation or repositioning of equipment
No damage to floors or loads
Reliable equipment movement immediately after install
SPECIAL FINISHES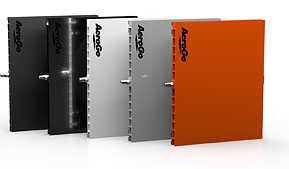 Does your application require air caster or bearing products with a specific finish? AeroGo offers anodized, powder coating, Roughcoat, Chemtreat and other special paint colors to match your production system.