High Lift Load Modules, also referred to as Auxiliary Lift, provide additional stroke to raise tooling above existing wheeled casters. This system allows long distance moves on existing wheels, and precise, easy movement when Aero-Casters are engaged, using shop air.
FEATURES
A safe and effective method for moving tooling or components
Easy to implement into existing assembly lines
Uses existing shop air
Standard factory floors (machine troweled, sealed concrete) are sufficient
Smooth movement in all directions
SPECIAL FINISHES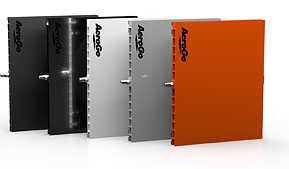 Does your application require air caster or bearing products with a specific finish? AeroGo offers anodized, powder coating, Roughcoat, Chemtreat and other special paint colors to match your production system.