Sep 2010
Air Casters Contribute to Successful 2998 Ton Yacht Launch
Safe, controlled move from build facility to dry dock to sea.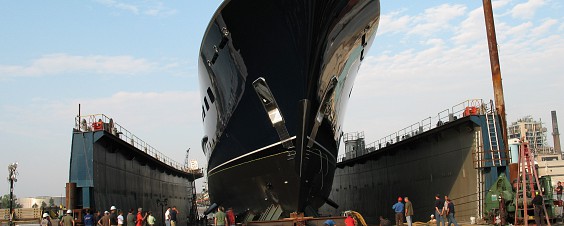 AeroGo air casters were utilized for the successful launch of the largest yacht in the United States. The 2998 ton marine vessel was moved in a straight line out of the build facility, and then turned toward the dry dock.  After the turn, the vessel floated on AeroGo casters down to water's edge and then floated onto dry dock.  Utilizing 42 Super 60" AeroGo air casters, the megaton yacht was maneuvered, despite the changes in direction and surfaces, in a slow, steady, controlled movement. Unlike rollers or wheeled equipment, air casters are omnidirectional and easily traverse corners and turn or rotate even the heaviest vessels and components. The frictionless nature of air casters contributes to controlled, safe movement of even the heaviest and most awkward loads.
AeroGo air casters are an integral component of the Derecktor Protector™ Facility. "Air casters are used throughout the facility, not just for moving finished vessels, but also for fabricating large weldments as well as landing 2400 ton barges," says John Massenburg, AeroGo President. The Derecktor Protector™ Facility is the largest vessel haul-out and service maintenance facility on the east coast of the United States.