April 06, 2020
4/3/20 – The more we share, the less isolated we will feel
Happy Friday!  Hope all is well!
Each weekday afternoon an update will be sent out. Some days there will be more news than others.
You can now connect in a new way. Go to: www.aerogo.com/quickconnect
There is an article written by John Massenburg on the quick connect today or you can read it here:
https://industryeurope.com/sectors/construction-engineering/benefits-of-hovercraft-technology/
When there is something immediate that everyone needs to hear the phone chain will be put into place.
If you would like to reply with a photo or a story of how you are doing at home please do so! The more we share, the less isolated we will feel!
Attached is a picture of Paul's cat "Vader" watching the neighbor cat watch birds!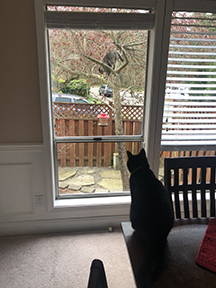 If you have any immediate questions or concerns please reach out to HR as I am communicating with SMT at least 2-3 times per day.
Stay safe! See everyone soon!