April 02, 2020
4/1/20 – Happy first day of April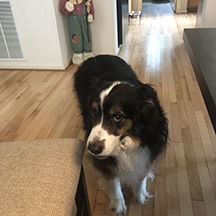 Each weekday afternoon an update will be sent out. Some days there will be more news than others.
You can now connect in a new way. Go to: www.aerogo.com/quickconnect
AeroGo will be have a few people coming in on Friday to support shipments to critical need customers. Especially those in the medical field that are working to fight COVID-19.
When there is something immediate that everyone needs to hear the phone chain will be put into place.
If you would like to reply with a photo or a story of how you are doing at home please do so! The more we share, the less isolated we will feel!
Attached is a picture of my co-worker Boomer.