March 31, 2020
3/30/2020 – Essential customers are being supported
Today SMT would like you to know that plans are being made to help support our essential customers. Especially those in the medical field that are working to fight COVID-19.
When there is something immediate that everyone needs to hear the phone chain will be put into place.
If you would like to share a photo or a story of how you are doing at home please email to hr@aerogo.com. The more we share, the less isolated we will feel!
Speaking of sharing…
Today's photo is from Kari. Sharing a pic of her new co-worker!!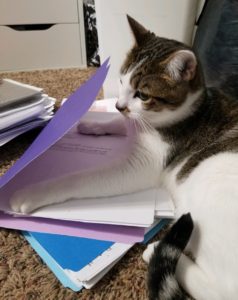 If you have any immediate questions or concerns please reach out to HR@aerogo.com or call 206-357-7802 as I am communicating with SMT at least 2-3 times per day.
Stay safe! See everyone soon!