AeroGo Silverback Wheeled Vehicles (WVs) are transfer carts designed to be an extremely cost effective, safe and flexible load moving alternative. The Transfer Carts are manual guide vehicles equipped with specialized drive systems which make it possible to easily, precisely and safely move up to 200 tons.  The Silverback Wheeled Vehicle heavy load transfer cart is sometimes called a heavy transporter, headless transporter or self-propelled modular transporter (SPMT).
FEATURES
Flexible: WVs eliminate first-in/first-out or fixed move paths
Easy to implement into manufacturing process
Operates on standard floors; does not require complex or permanent installation
Exceptionally maneuverable: WVs feature precise movement through multiple steering modes
WVs minimal operational footprint maximizes usable floor space
Intuitive operation requires little training; LCD readily conveys load movement information
Standard models handle load capacities from 40 to 200 tons; additional models also available
PRODUCT ACCESSORIES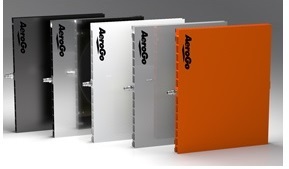 SPECIAL FINISHES
Does your application require air caster or bearing products with a specific finish? AeroGo offers anodized, powder coating, Roughcoat, Chemtreat and other special paint colors to match your production system.
---
SPECIFICATIONS
Standard
| | | | | |
| --- | --- | --- | --- | --- |
| Model Number | Maximum Capacity | Standard Width | Standard Length | Standard Height |
| | (lbs) | (ft) | (ft) | (in) |
| WV-E40T | 80000 | 5.9 | 14.1 | 17 |
| WV-H65T | 130000 | 4.9 | 20 | 18 |
| WV-H100T | 200000 | 7.5 | 20 | 20 |
Metric
| | | | | |
| --- | --- | --- | --- | --- |
| Model Number | Maximum Capacity | Standard Width | Standard Length | Standard Height |
| | (kg) | (m) | (m) | (mm) |
| WV-E40T | 36287 | 1.8 | 4.3 | 431.8 |
| WV-H65T | 58967 | 1.5 | 6.1 | 457.2 |
| WV-H100T | 90718 | 2.3 | 5 | 457.2 |
---